Michigan Fine Arts Competition
The 32nd Annual Michigan Fine Arts Competition will be exhibited May 16-July 11, curated by DJ Hellerman, Curator & Director of Exhibitions for the Burlington City Arts Center (Vermont).
CLICK HERE for the list of artists juried into the 2014 MFAC.
Or artists may log in to their Juried Art Services account to learn the jury results. We apologize for any confusion!
HOMEPAGE IMAGE: detail from "CHAOS" by John Carlson
ENTRY DEADLINE EXTENDED TO 11:59PM ON MON., APRIL 14.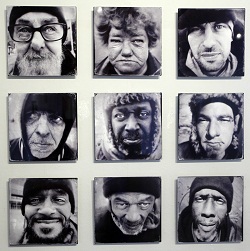 2013 MFAC $5,000 Award – Human by Rashaun Rucker
History of the MFAC
The Birmingham Bloomfield Art Center hosts the Michigan Fine Arts Competition annually since 1982 when the Detroit Institute of Arts turned the statewide competition over to the BBAC. For 30 years, 600 artists from all over Michigan entered the competition annually. Many competition winners have gone on to national prominence as a result of this competition. Each year, the MFAC is juried by artist(s) or curator(s) of distinction, who select current work of the highest quality. Cash awards support working artists, while recognizing the contributions they make to the cultural fabric of our region.
MFAC Jurors
1983 Philip Pearlstein
1984 Miriam Schapiro
1985 Richard Anuskiewicz
1986 Romare Bearden
1987 Judy Pfaff
1988 Alice Aycock
1989 Patterson Sims
1990 Gracie Mansion
1991 Alvin Loving
1992 Gladys Nilsson
1993 Laura Trippi
1994 Ellen Phelan
1995 James DelGrosso
1996 Jane Hammond
1997 John Walker
1998 Larry Rivers
1999 Nancy Mitchnick
2000 Howardena Pindell
2001 Brenda Goodman
2002 Nick Cave
2003 Richard Nonas
2004 Al Hinton & Sei Saito
2005 Susan Wilczak
2006 Jerry Berger
2007 Gerry Craig, Rebecca Hart, Janet Teunis & Susan VanArendonk
2008 Brian Rutenberg
2009 Tony
DeBlasi
2010 Sondra Freckleton
2011 John Palmer
2012 Mi-Kyoung Lee
2013 Brad Durham
IMAGE: Gwenn Rosseau
HOMEPAGE IMAGE: 5845 Motor City #2 by Tommy Wilson (2013 MFAC)